Sound of Migration | ÓNIX Ensemble 21 April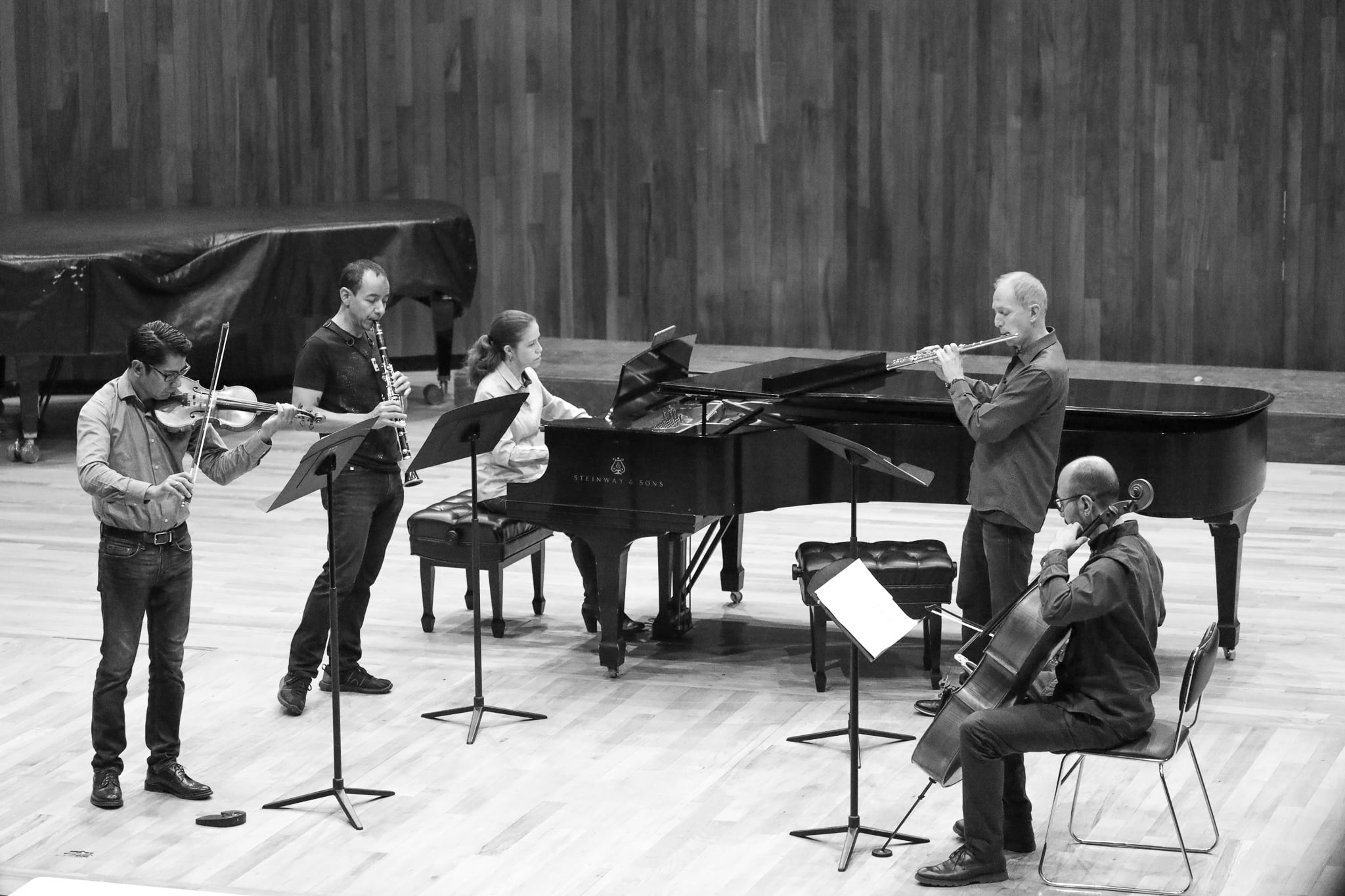 Concert
Oki, and welcome to New Music LAB's presentation of The Sound of Migration. This concert is taking place on the traditional lands of the Blackfoot people of the Canadian Plains and we would like to pay respect to the Blackfoot people past, present and future while recognizing and respecting their cultural heritage, beliefs and relationship to the land. The City of Lethbridge is also home to the Metis Nation of Alberta, Region III.
ÓNIX Ensemble
7:30 to 9:30PM Friday, 21 April University of Lethbridge, Recital Hall
Music from Canada
An introduction to the music
 
Modelo para armar / A model to be composed
CANADIAN PREMIERE
– ÓNIX Ensemble
Química del agua
CANADIAN PREMIERE
– Víctor Ibarra
Remote Migration for flute, clarinet, piano, violin, cello and electronics
WORLD PREMIERE / CANADIAN PREMIERE
– Shaun Bellamy
La Danza de la Peste
WORLD PREMIERE / CANADIAN PREMIERE
– Jordan Berg
Intermission
 
 
Timshel for flute and piccolo, clarinet and bass clarinet, piano, violin, cello and tape (fixed media)
CANADIAN PREMIERE
– Joao Pedro Oliveira
Conversation for B-flat clarinet and digital audio processing
WORLD PREMIERE / CANADIAN PREMIERE
– Rolf Boon
Pasatiempo concertante
CANADIAN PREMIERE
– Armando Luna
Migration
This concert celebrates diverse experiences of migration and the sound worlds inspired by it. We have invited Mexico's renowned Ónix Ensemble to present a program of new works by composers from our own city and around the world! Each piece has a relevant relationship with the essential meaning of migration, which is the "movement from one part of something to another". Some works engage with animal and bird migration, some with human migratory patterns and others with the migration of the human spirit from one state to another. In all cases the composers are representative of a diverse and vibrant cross-section of our world and hope to give you an evening to reflect on our ever changing landscape.
The Music
Modelo para armar / A model to be composed by Ónix Ensemble
One of the constant challenges for contemporary classical players, that ÓNIX has undertaken, is improvisation. Modelo para armar literally means "model to be composed or armed". The piece has to be created on the spot and made to work in real time taking into account the concert hall acoustics, audience responses, and the emotional state of every player at the time of the performance. The performers have a sonic conversation, they talk to each other, discuss, argue, agree, share and enjoy. The goal is to deliver a customized experience to our concert goers so that it becomes a unique, unrepeatable, one-of-a-kind performance.
Química del agua by Víctor Ibarra
Química del agua (2015) was composed during my residence in Spain while I was a member of the Casa de Velázquez – Académie de France à Madrid. The project was developed as an interdisciplinary endeavor established between visual arts and music. I had the opportunity to closely collaborate with the French photographer Guillaume Lemarchal. During our work together, we established some recurrent concepts which preoccupied his work and which became a fundamental basis for our project. We discussed such concepts as: the inherent memory of a landscape, borders and limits, reading ambiguities, encounter and resistance, and a dream's failure. Alejandro Escuer, artistic director of ÓNIX Ensemble, suggested the name of the piece and proposed that I write a new piece for the group engaging with the themes of science and art. Química del agua was commissioned by Casa de Velázquez – Académie de France à Madrid and the National System of Art Creators FONCA (Mexico). It was written during the spring 2015 in Madrid and Fuerteventura and is dedicated to Ensemble Taller Sonoro and Ónix Ensemble.
Remote Migration by Shaun Bellamy
Remote Migration seeks to express the need to reach out during a time of creative isolation. This migration to an online-centric world that occurred during the pandemic lockdown, altered our relationships with our family, friends, and workplaces. Separated from our local communities, we sought to rebuild these lost connections through our technology. We placed ourselves in new online communities in order to stimulate development and to fight against a crippling sense of purgatory and repetitiveness. We were able to find solace by experiencing cultures created by the minds of individuals that were not bound by borders on a map, giving new perspectives outside of our local communities. These interactions during the temporary severing of our way of life have altered our outlook on the world. It has led to a deeper understanding of the human experience and emphasized the impact community has on creativity.
La Danza de la Peste by Jordan Berg
La Danza de la Peste (The Plague Dance) was written during the Covid19 pandemic and a large part of the thematic material was conceived while the composer was at home after testing positive for the virus. Since the piece was going to be performed and workshopped in Mexico City, and after the suggestion by an instructor to make it a dance, the piece was built upon many of the dance rhythms of Mexico after significant research. It is constructed entirely from Olivier Messiaen's 'Third Mode of Limited Transposition.' Conceptual stage lessons and coaching were given by C.F. Kip Winger and David Serkin Ludwig, Dean and Director of Music of the Juilliard School.
Pasatiempo concertante by Armando Luna
Pasatiempo concertante was written in 2001 and was commissioned by Hebert Vazquez as part of a project where 5 composers were tasked to write 5 works for 5 instruments. Each composer would randomly take (by a draw) an instrument as soloist. In the case of Pasatiempo, the violin is the solo instrument. The work is written in the composer's eclectic and ironic language. It has seven move­ments, which follow an arch form. The atmosphere of the first Toccata reap­pears again in the seventh movement and the cantabile character of the second movement comes back (with a Blues influence) in the sixth movement. The colloquial images in Scaramouche I are developed again (as a Waltz) in Scaramouche II. The fourth movement (Scherzo Acido) constitutes the central axis of the work.
Conversation by Rolf Boon
Conversation for B flat clarinet and live digital processing is an experimental work that explores a dialogue between an acoustic instrument and the computer-generated responses realized using Ableton Live. Conversation also interrogates extended techniques for the clarinet to provide provocative material for digital elaboration. The work is about two performers engaging in a conversation with each other creating a sonic tapestry of luscious timbres and rhythmic counterpoint coupled with a variety of evocative sonic textures.
Timshel by João Pedro Oliveira
This work was composed at the same time I was reading Steinbeck's romance East of Eden. Timshel (Hebrew word that means "thou mayest…") occupies a basic place in this romance and relates to the capacity of choice given to human beings. In the process of composing we are confronted with many choices, and the final work is the result of the options we made. The same happens in life. Choices made in one specific moment influence the future of our existence. Timshel is a composition where I manifest joy and gratefulness for the choices I made correctly, and sadness for those where I failed.
The Artists Performing this evening
Alejandro Escuer, flute and Artistic Director
Fernando Dominguez, clarinets
Abel Romero, violin
Edgardo Espinosa, violincello
Edith Ruíz Zepeda, piano
Felipe Perez Santiago, conductor
ÓNIX ENSEMBLE is a well known and acclaimed group of Mexican musicians dedicated to promoting the best interpretations of Latin American contemporary music today. All members have an international career and are experienced soloists and virtuoso musicians. Classical Music Review wrote that "ONIX is exceptional, hypnotic…an ensemble with amazing strength and musical expressiveness." Mexican musician and new music advocate Alejandro Escuer founded ONIX in 1996 under the honored principles of cultural diversity, high quality musical craftsmanship and artistic originality. Therefore ONIX offers and delivers a unique panorama of exclusive, dedicated works, which are often influenced by literature, theater, the visual arts and new technologies. Furthermore, ONIX has worked on building bridges and new forms of expression by stimulating the creation of special pieces that combine classical music with other musics and aesthetic traditions. The idea is to promote original interpretations of works by composers interested in expanding and developing contemporary music idioms. The frequent description of an ONIX musical experience is often related to innovation, multiculturalism, eclecticism and Latin post modernism. The main strategy of the ensemble consists of national and international collaborations which translate into recordings, world premieres, commissions, residencies, tours and the launching of projects such as the Intercultural ONIX International Music Composition Competition. ONIX has premiered many works dedicated to the ensemble and has toured extensively in Mexico, the United States, South America and Asia. The group has earned prizes and acknowledgements from Fondo Nacional para la Cultura y las Artes, México en Escena Award 2004-2006 and 2007-2009, Fomento a Proyectos y Coinversiones Culturales Award, Top Ten Grammy Latino nomination, Rockefeller Foundation México-US Award, among others. Other institutions that have granted support to ONIX are Fundación Cultural Bancomer; Coordinación Nacional de Música y Opera, Instituto Nacional de Bellas Artes; Universidad Nacional Autónoma de México, Escuela Nacional de Música; Chamber Music International; Festival Internacional Cervantino; Centro Nacional de las Artes; Foro Internacional de Música Nueva Manuel Enríquez; Festival de México en el Centro Histórico; Americas Society in New York; Gaudeamus Foundation among many others. ONIX is also a non-for profit organization dedicated to enhance and redirect the role of music in society through community and educational projects of high standards and human values. All members are professors at Escuela Nacional de Música of the Universidad Nacional Autónoma de México. ONIX has recorded for Grupo Actus, Quindecim Recordings and Urtext Digital Classics.
For more information: onixensamble.ca
Music composers
Víctor Ibarra
Victor Ibarra was born in Mexico. He received extensive training in his own country as well as in France and Switzerland with well-known musicians such as Hebert Vázquez, José Luis Castillo, Edith Lejet, Daniel D'Adamo and Michael Jarrell. He was awarded first prize in the Alea III competition in the United States, first prize in the National Music Auditorium – BBVA Foundation competition in Spain, first prize in the Mauricio Kagel competition, the Zeitklang Award in Austria, first prize in the Basel Composition Competition in Switzerland, among other international recognitions. Ibarra was recently selected at the Ensemble Aleph's 7th International Forum for Young Composers, while simultaneously chosen as a member of the Casa de Velazquez – Académie de France à Madrid. He regularly attends the performances of his productions, which have been wonderfully interpreted by well-known international ensembles. He has successfully completed his Master's degree in Composition at the Conservatoire National Supérieur Musique et Danse de Lyon, unanimously winning first prize and the special recognition from the Salabert Foundation. Since 2014 he has been a member of the National System of Art Creators from the National Fund for Culture and Arts of Mexico. Victor Ibarra's style draws on varied resources that outline a genuine language. Every part is immersed in micro-tonality, with a precise harmonic structure that becomes intertwined and accented by the rhythmic energy. This energy is an essential component of his musical language as is the use of instrumental virtuosity by which he creates new spaces and dimensions in the expression. The influence of French-spectralism is evident in his coloristic and timbral explorations, and his work is concerned with an interdisciplinary dialogue. Ibarra always imprints a personal mark on his work that is characterized by a clarity in his compositional instincts and ideals. Victor Ibarra holds both Mexican and French nationality. S
haun Bellamy
Shaun Bellamy is a Canadian concert and film composer living in Lethbridge, Alberta. Graduate of the University of Toronto M.Mus composition program and the University of Lethbridge Digital Audio Arts Program, he is an avid writer of instrumental music and often combines acoustic instruments with electronic sounds. During his time in Toronto he developed the CueTrack, a self-contained performance system for live electronics, funded by the Social Sciences and Humanities Research Council of Canada (SSHRC), that allows traditional musicians to more-easily perform new works that combine acoustic instruments and live electronics. In film, Shaun has worked with independent directors and animators as a composer and sound designer. Most recently was his collaboration with Bryn Hewko, composing the soundtrack for his documentary Visualizing Agriculture which explored the University of Lethbridge Data Visualization Lab. He has previously worked with director Arjan Gill on the short film Solus, funded by STORYHIVE, and director Jean Pierre Marchant on The Hitch-hiker, presented at the 2015 Calgary International Film Festival.
Jordan Berg
Jordan Berg is an award winning composer from Lethbridge, Alberta, Canada. His music has been performed at home and abroad by ensembles, solo musicians and orchestras in Canada, the United States, England, Portugal and Russia. Jordan recently completed his Bachelor of Music in Composition under Dr. Arlan Schultz at the University of Lethbridge and in the last few years has attended prestigious workshops at the University of Cincinnati College Conservatory of Music, NYU Steinhardt, and the Atlantic Music Festival in Waterville, Maine. Jordan has also studied at Musicians Institute in Hollywood, California, The University of Toronto under Dr. Roger Bergs, and the Berklee College of Music. In addition to composing, Jordan is an accomplished orchestral percussionist, jazz drummer and guitarist. As an educator, Jordan has taught music to hundreds of students over the years and continues to inspire them to try new things and find their own unique voice. He also holds an honors Bachelor of Arts in Philosophy with minors in History and English and looks forward to continuing on with graduate studies in music.
Joao Pedro Oliveira
Composer João Pedro Oliveira holds the Corwin Endowed Chair in Composition for the University of California at Santa Barbara. He studied organ performance, composition and architecture in Lisbon. He completed a PhD in Music at the University of New York at Stony Brook. His music includes opera, orchestral compositions, chamber music, electroacoustic music and experimental video. He has received over 70 international prizes and awards for his works, including three Prizes at Bourges Electroacoustic Music Competition, the prestigious Magisterium Prize and Giga-Hertz Special Award, 1st Prize in Metamorphoses competition, 1st Prize in Yamaha-Visiones Sonoras Competition, 1st Prize in Musica Nova competition. He taught at Aveiro University (Portugal) and Federal University of Minas Gerais (Brazil). His publications include several articles in journals and a book on 20th century music theory.
Rolf Boon
Dr. Rolf Boon is an Associate Composer of the Canadian Music Centre (CMC), Member of the Canadian League of Composers (CLC), Delegate of the Canadian Academy of Recording Arts and Sciences (CARAS), Member of the Academy of Canadian Cinema and Television (ACCT), Audio Engineering Society (AES) and New Music Edmonton (NME). His compositions and film work continue to receive national and international exposure including recent performances and/or presentations in London, New York, Vancouver, Toronto, Kraków, Athens, Barcelona, Berlin, Los Angeles, Istanbul, and Beijing. Furthermore, his work has had repeat broadcasts on CJSR Edmonton, CKUA Access Radio and CBC radio/television. He has received commissions and grants from the SSHRC, Canada Council for the Arts, Canadian Music Centre, University of Lethbridge, individuals, and multimedia groups. He is a recipient of the ACIFA Alberta Provincial Teaching Excellence Award and British Columbia Senior Arts Award. In addition to his composing and teaching film composition, music technology, and theory, Rolf worked as music editor on several films and documentaries for the CBC, Disney, Expo '86, Lauron Productions and Independents as well as being the principal composer for the 1995 Canada Winter Games. He was commissioned by the Toronto Symphony Orchestra's (TSO) Mosaic project celebrating Canada's 150th and has served four times as a jurist for the Canadian Academy of Recording Arts and Sciences (CARAS) Juno Awards, and three times for the Academy of Canadian Cinema and Television (ACCT). He is currently the Vice President on the Canadian Music Centre (CMC) Board of Directors for the Prairie Region and the Region representative to the CMC National Board. As past-chair of the Music Department at the University of Lethbridge (U of L), Rolf led the development and implementation of the Digital Audio Arts program. He is currently the Interim Chair for the Dept. of Music at the U. of L. Originally from Kingston Ontario, Rolf studied piano and graduated with an ARCT (1978, RCM) and a B.Mus. (1980) from Queen's in piano performance and composition. At Queen's he studied piano with Dr. Ireneus Zuk and composition with Dr. Bruce Pennycook and Dr. Clifford Crawley. Rolf graduated with a M.Mus. (1983) from UBC. At UBC he studied composition with Dr. Stephen Chatman and orchestration with Dr. Eliot Wiesgarber. He also holds a B.Ed. (1988) degree in secondary music education from UBC and a Ph.D. (2002) in policy studies and leadership from the University of Alberta.
Armando Luna
Armando Luna was born in 1964 in Chihuahua, Mexico where he started his musical studies with Juan Manuel Medina. In 1980 he was admitted into the National Conservatory of Music in Mexico City, where he worked in Mario Lavista's Composition Workshop. From 1989 until 1991 he studied at Carnegie-Mellon University in Pittsburgh, where he obtained a Master's degree in composition, working under Leonardo Salada. He also studied with Reza Vali and Lukas Foss. Prestigious musicians and ensembles have per­formed his music in Mexico and abroad and in 2000 he was admitted to Mexico's National System of Art Creators. ÓNIX Ensemble has been an important promoter of his chamber music. Besides the Sonata da Camera Number 1, ONIX premiered his Sonata for flute and string trio and his five movement Octet written for the group.    
---
For more information: newmusiclab.ca Founding members:
D. Andrew Stewart, President
Lavinia Kell Parker, Secretary
Shaun Bellamy, Treasurer
Rolf Boon, Board member
Sonny-Ray Day Rider, Board Member
Jordan Berg, Board Member
Scott Edward Godin, Board Member
Arlan N. Schultz, Board Member
with Support